About This Video
---
This Movie Info
---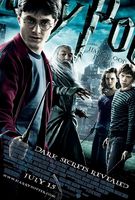 Voldemort is tightening his grip on both the Muggle and wizarding worlds and Hogwarts is no longer the safe haven it once was. Harry suspects that dangers may even lie within the castle, but Dumbledore is more intent upon preparing him for the final battle that he knows is fast approaching. Together they work to find the key to unlock Voldemort's defenses and, to this end, Dumbledore recruits his old friend and colleague, the well-connected and unsuspecting bon vivant Professor Horace Slughorn, whom he believes holds crucial information. Meanwhile, the students are under attack from a very different adversary as teenage hormones rage across the ramparts. Harry finds himself more and more drawn to Ginny, but so is Dean Thomas. And Lavender Brown has decided that Ron is the one for her, only she hadn't counted on Romilda Vane's chocolates! And then there's Hermione, simpering with jealously but determined not to show her feelings. As romance blossoms, one student remains aloof. He is determined to make his mark, albeit a dark one. Love is in the air, but tragedy lies ahead and Hogwarts may never be the same again.
Comments
---

damn one who slams this trailer
posted by

daffy

on Mar 20, 2009

Oh, CanT wAit!! ..dont mess up again, Warner bros! or else.. AVADA KEDAVRA!! Xp
posted by

sectumsempra

on Feb 06, 2009

hey iam from egypt Ilove harry potter so much and I wich to see harry face to face and thank you
posted by

مصط

on Feb 05, 2009

I can't wait!!I have already read whole series.No doubt this movie going to be a hit!!U are awesome! Danie!!!!
posted by

pawa

on Jan 24, 2009

Ithink this is gonna be the best movie out of all of them....i waannnaaa see it NOW!!!!!!I love Daniel Radcliffe!!!!
posted by

katie<3

on Jan 13, 2009

This movie gonna be hit ... can't wait to watch! Wanna see Hermione jealous !!!
posted by

iamgr8

on Jan 10, 2009

Damn! i cant wait.. i wanna watch it now.. like NOW
posted by

GaladrieL

on Jan 03, 2009

Harry Potter and the Half Blood Prince is going to a GREAT movie.
posted by

Daniel

on Dec 22, 2008

Harry Potter and the Half Blood Prince is an AMAZING and INDESCRIBABLE and UNIMAGINABLE and ASTONISHING film. Why don't Warner Brothers just release the movie earlier than summer of 2009? My desire is that I will see the Harry Potter and the Half Blood Prince. It's AWESOME and GREATER than any other movie
posted by

Deep

on Dec 03, 2008

Harry Potter and the Half Blood Prince is an AMAZING movie.
posted by

Deep Rana

on Dec 03, 2008

so awesome! great trailer! i wish it had more helena bonham carter in it though, she's amazing!
posted by

annie

on Nov 08, 2008

this is going to be the best movie yet i read the book and thats fucked up that proffesor dumbordor dies thats a bitch
posted by

richshit

on Nov 07, 2008
fuck it out warner brothers.. why dont u just release the movie earlier than summer of 2009!
posted by

shapoh

on Nov 06, 2008

anybody can help and tell me in wich part of the book is 0:42 ??? im sorry for my english im french :)
posted by

red hot chili pepper

on Oct 31, 2008

GREAT!
posted by

dafdaf

on Oct 27, 2008