About This Video
---

A clip/trailer of Fireproof
Tags
:
Fireproof
Type
: Movie Trailer
Views
: 3155
This Movie Info
---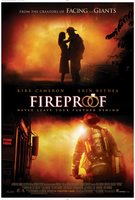 Fireproof
Release Date :
September 26, 2008
Studio :
Samuel Goldwyn Films
Director :
Alex Kendrick
Starring :
Kirk Cameron
, Erin Bethea, Ken Bevel, Stephen Dervan
At work, inside burning buildings, Capt. Caleb Holt lives by the old firefighter's adage: Never leave your partner behind. At home, in the cooling embers of his marriage, he lives by his own rules.
Growing up, Catherine Holt always dreamed of marrying a loving, brave firefighter...just like her daddy. Now, after seven years of marriage, Catherine wonders when she stopped being "good enough" for her husband.
Regular arguments over jobs, finances, housework, and outside interests have readied them both to move on to something with more sparks.
As the couple prepares to enter divorce proceedings, Caleb's father challenges his son to commit to a 40-day experiment: "The Love Dare." Wondering if it's even worth the effort, Caleb agrees-for his father's sake more than for his marriage. When Caleb discovers the book's daily challenges are tied into his parents' newfound faith, his already limited interest is further dampened.
While trying to stay true to his promise, Caleb becomes frustrated time and again. He finally asks his father, "How am I supposed to show love to somebody who constantly rejects me?"
When his father explains that this is the love Christ shows to us, Caleb makes a life-changing commitment to love God. And - with God's help - he begins to understand what it means to truly love his wife.
But is it too late to fireproof his marriage? His job is to rescue others. Now Caleb Holt is ready to face his toughest job ever...rescuing his wife's heart.
Comments
---

kaka damdam ang movie... nkaka touch..
posted by

erningski

on Feb 17, 2011

kakaloka ang movie..ang ganda..todo na itech!!!
posted by

sugareskitinaski

on Feb 17, 2011

I love this movie so much it has really powerful message and it shows that if you put effort into your marriage it can work.
posted by

lissa

on Apr 23, 2009

when I saw the movie all I could was cry cause my relationship is so much similar to this movie. I have 3 kids in my life extra problem cause of respect in our family life with God in our home.
posted by

Sherri Griffin

on Oct 06, 2008

i love it
posted by

adam

on Sep 27, 2008