About This Video
---

A clip/trailer of The City of Gardens
Tags
:
The City of Gardens
Type
: Movie Trailer
Views
: 1483
This Movie Info
---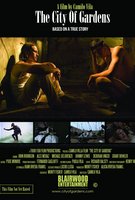 The City of Gardens
Release Date :
May 14, 2011 Cannes Film Festival
Studio :
DragonTree Media
Director :
Camilo Vila
Starring :
John Robinson, Michael DeLorenzo,
Alex Meraz
, Deborah Kara Unger
The City of Gardens is inspired by the 1980s story of a young American surfer wrongfully accused of cocaine trafficking and sent to prison.
The action drama, The City of Gardens, follows a blond Californian surfer, Wayne Montgomery (John Robinson), who is a fun loving beach bum escaping the influence of his wealthy and powerful father (James Remar). Wayne leaves his home in Beverly Hills for the enchantment of exotic Peru. Wayne's carefree lifestyle and love affair with his beautiful girlfriend, Maritza, (introducing Anahi De Cardenas a Peruvian actress), ends when he is framed during a political uprising. Framing turns into extortion in the sadistic prison.
In the nightmarish prison, Wayne finds himself surrounded by a group of political activists and social misfits, including a schizophrenic who believes he is Jesus Christ (Grant Bowler) and an Icelandic devotee of Krishna, Jorge (Johnny Lewis). Wayne is forced to share a mattress with the animalistic beast that everyone calls Nicaragua (Alex Meraz) which leads to a confrontation between them.
In a desperate attempt to gain freedom, Wayne meets with Consul Powers (Debra Unger) whose hands are tied by the false drug charges. As Wayne's naivety dissipates, another nemesis, the power hungry Lt. Gutierrez (Michael DeLorenzo), moves to break Wayne's spirit, torturing him to extort money from his family. Left with few options, Wayne adopts a new ethic - engaging the Peruvian activists, sharing his gifts with them and learning the importance of faith through his sympathetic friend, Jorge (Johnny Lewis). Wayne challenges Lt. Gutierrez's authority, confronting the depravity of corruption and abuse with his newfound spirit and courage.