About This Video
---
This Movie Info
---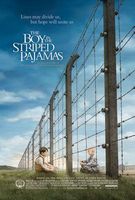 The Boy in the Striped Pajamas is a fictional story that offers a unique perspective on how prejudice, hatred and violence affect innocent people, particularly children, during wartime.
Through the lens of an eight-year-old boy largely shielded from the reality of World War II, we witness a forbidden friendship that forms between Bruno, the son of Nazi commandant, and Schmuel, a Jewish boy held captive in a concentration camp. Though the two are separated physically by a barbed wire fence, their lives become inescapably intertwined.
The imagined story of Bruno and Shmuel sheds light on the brutality, senselessness and devastating consequences of war from an unusual point of view. Together, their tragic journey helps recall the millions of innocent victims of the Holocaust.
Comments
---
gaaaaaaaaaay
posted by

ralph

on Feb 21, 2011

gay gay fag
posted by

gay fag

on Feb 21, 2011
noo noo
posted by

samuel

on Apr 30, 2010

I think that it will really go to the heart of some people!!
posted by

The boy in the strip

on Nov 25, 2008