About This Video
---
A clip/trailer of An American Carol
Tags
:
An American Carol
Type
: Movie Trailer
Views
: 1858
This Movie Info
---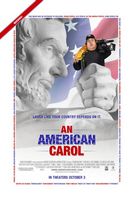 The American spirit is celebrated in the outrageous and totally irreverent comedy An American Carol from David Zucker, the master of movie satire (Airplane!, The Naked Gun, Scary Movie 3 and 4).
In An American Carol, a cynical, Anti-American "Hollywood" filmmaker sets out on a crusade to abolish the 4th of July holiday. He is visited by three spirits who take him on a hilarious journey in an attempt to show him the true meaning of America.
Comments
---

dwayne bonello i hate this movie and i will not see it and i will give 1stars!
posted by

dwayne bonello

on Nov 08, 2012