About This Video
---
A clip/trailer of Baby on Board
Tags
:
Baby on Board
Type
: Movie Trailer
Views
: 1981
This Movie Info
---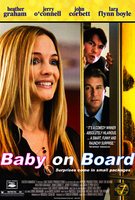 In the tradition of "Knocked Up" and "The 40 Year Old Virgin" arrives hilarious comedy "Baby on Board"; the story of Angela (Heather Graham)-an ambitious, image-conscious businesswoman working for over-demanding boss Mary (Lara Flynn Boyle), Angela's loving husband Curtis (Jerry O'Connell) and their unexpected pregnancy at the peak of Angela's career.
From hormonal mood swings to comic physical changes overtaking Angela's body, "Baby on Board" begins with an inconvenient pregnancy and chronicles its nine-month rollercoaster ride as Angela and Curtis try to cope-even as the involvement of best friends Danny (John Corbett) and Danny's wife Sylvia escalate the situation into a battle of the sexes.
Comments
---

Yeah Sid, You never even saw it - How can you Rate It? You were a Baby once... maybe still are...lol
posted by

TreeHug_nHippee

on Apr 23, 2009

A Baby Movie??!!
posted by

SidNextDoor

on Apr 23, 2009

I loved this film! It's kinda like a 'Something About Mary' crossed with '9 Months'
posted by

13luvdaPRazz

on Apr 23, 2009

I saw this show at the Independent Downtown at an early release. It was pretty darn funny... not at all what I had expected. Now it's my turn to pick the movie : ) Gonna have to go to the new Seth Rogan flick !
posted by

HlywoodJimtada

on Apr 23, 2009

I heard Howard Stern talking about this movie this morning!! It sounds funny. I can't believe it's not a big studio picture... it must be good !!! haha
posted by

ILuv2spin876

on Apr 23, 2009

This Movie Looks Excellent! It's about time someone made a movie for Real Mothers !!!
posted by

BabyMama32

on Apr 23, 2009