About This Video
---

A clip/trailer of Death Race
Tags
:
Death Race
Type
: Movie Trailer
Views
: 1681
This Movie Info
---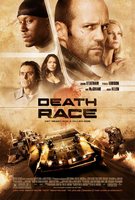 Terminal Island: The very near future.
The world's hunger for extreme sports and reality competitions has growninto reality TV bloodlust. Now, the most extreme racing competition hasemerged and its contestants are murderous prisoners. Tricked-out cars,caged thugs and smoking-hot navigators combine to create a juggernaut serieswith bigger ratings than the Super Bowl.
The rules of the Death Race are simple: Win five events, and you're setfree. Lose and you're road kill splashed across the Internet.
International action star Jason Statham leads the action-thriller's cast asthree-time speedway champion Jensen Ames, an ex-con framed for a gruesomemurder. Forced to don the mask of the mythical driver Frankenstein, a DeathRace crowd favorite who seems impossible to kill, Ames is given an easychoice by Terminal Island's ruthless Warden Hennessey (Joan Allen): Suit upand drive or never see his little girl again.
His face hidden by a hideous mask, one convict will enter an insanethree-day challenge in order to gain freedom. But to claim the prize, Amesmust survive a gauntlet of the most vicious criminals-including nemesisMachine Gun Joe (Tyrese Gibson)-in the country's toughest prison. Trainedby his coach (Ian McShane) to drive a monster Mustang V8 Fastback outfittedwith 2 mounted mini-guns, flamethrowers and napalm, an innocent man willdestroy everything in his path to win the most twisted spectator sport onEarth.