About This Video
---

This Movie Info
---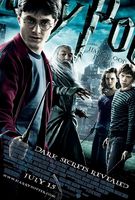 Voldemort is tightening his grip on both the Muggle and wizarding worlds and Hogwarts is no longer the safe haven it once was. Harry suspects that dangers may even lie within the castle, but Dumbledore is more intent upon preparing him for the final battle that he knows is fast approaching. Together they work to find the key to unlock Voldemort's defenses and, to this end, Dumbledore recruits his old friend and colleague, the well-connected and unsuspecting bon vivant Professor Horace Slughorn, whom he believes holds crucial information. Meanwhile, the students are under attack from a very different adversary as teenage hormones rage across the ramparts. Harry finds himself more and more drawn to Ginny, but so is Dean Thomas. And Lavender Brown has decided that Ron is the one for her, only she hadn't counted on Romilda Vane's chocolates! And then there's Hermione, simpering with jealously but determined not to show her feelings. As romance blossoms, one student remains aloof. He is determined to make his mark, albeit a dark one. Love is in the air, but tragedy lies ahead and Hogwarts may never be the same again.
Comments
---

harry potter is the best movie all over the world!!i love it so much!!hope that j.k. rowling will wrote again!! the year 8!!
posted by

jomee_14

on Sep 01, 2009

the new harry potter is the best of all time
posted by

martin

on Jun 06, 2009

It's a cool new hp film
posted by

Mayur

on Feb 11, 2009

I just luv Daniel n his work..... can't wait 2 c him back in Harry Potter
posted by

Ridhima

on Sep 17, 2008

Can't wait to see Harry Potter.
posted by

chickswim

on Sep 06, 2008

i like him bcoz of his cool atitude
posted by

maneesh

on Aug 19, 2008
wowww i can't see the trailer why??? i hope harry potter 6 is better than another harry potter's movie
posted by

desty

on Aug 12, 2008

harry potter is my husband
posted by

ricardo desty

on Aug 12, 2008

this trailer wasnt good but others are the films gonna be good
posted by

sasqiuch

on Jul 30, 2008

love you harry potter
posted by

emma

on Jul 25, 2008

what that it?
posted by

noooo

on Jul 23, 2008

wtf?? thats it?? well i guess its better than nothing....but still!!! although i suppose thats a good way of keeping us interested and keeping us hanging and wanting more.
posted by

victoria

on Jul 23, 2008

Ahhh man!!!!! why must they do that?!?!?! well we know why they call them flipping teasers now dont we....
posted by

...

on Jul 22, 2008