About This Video
---
A clip/trailer of U Me Aur Hum
Tags
:
U Me Aur Hum
Type
: Movie Trailer
Views
: 1053
This Movie Info
---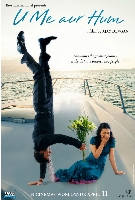 U Me Aur Hum
Release Date :
April 11, 2008
Studio :
Eros International
Director :
Ajay Devgan
Starring :
Ajay Devgan, Kajol, Shyam Adhatrap, Ramu Bashyal
"Oh, how we danced on the night we were wedWe vowed our true love though a word wasn't saidThe world was in bloom; there were stars in the skiesExcept for the few that were there in your eyes.The night seemed to fade into blossoming dawnThe sun shone anew but the dance lingered onCould we but relive that sweet moment sublimeWe'd find that our love is unaltered by time." -- Lyrics to "The Anniversary Waltz," composed by Dublin/Frankl
The first time Ajay saw Pia, she served him drinks. She affected him more than the alcohol, and he found true love. He was a leading psychiatrist, but she messed up his mind.
The first time Pia saw Ajay, he had too much to drink. She watched him make a fool of himself, and was relieved when he passed out. She was a woman who followed her heart, but despite his claims of true love, she had made up her mind.
Thus began the story of Ajay and Pia.
A love story, that begins at sea. Ajay is on a cruise with his friends. Ajay is having a wonderful time dealing with martial strife, lots of bad language and huge hangovers, when he finds Pia, and time stands still.
After a disastrous first meeting, Ajay tries everything to woo her. She's not an easy catch at all, but finally, by sheer perseverance, he dances his way into her heart. Ajay and Pia marry each other against everyone's advice.
They develop a strong and special bond. In each other, they find an anchor. But soon the tide goes against them. Weighted down by lies and deceit, their boat is rocked, and their relationship is on the verge of drowning.
As things get worse, Ajay and Pia realize that marriage is not a ritual or an end. It is a long, intricate, intimate dance together and nothing matters more than your own sense of balance and your choice of partner. And Ajay and Pia are used to dancing together.
So they battle all odds, and dance, and sometimes they fall. But every time they fall, they fall in love. And that's what a successful marriage requires. Falling in love many times, always with the same person.
This is the special love story of Ajay and Pia. There may be no monuments dedicated to them and perhaps their names will soon be forgotten. But in one respect they succeed as gloriously as anyone who's ever lived: They've loved each other with all their heart and soul; and in life and marriage, that has always been enough.