About This Video
---

A clip/trailer of Walk All Over Me
Tags
:
Walk All Over Me
Type
: Movie Trailer
Views
: 2313
This Movie Info
---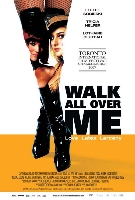 Alberta (Leelee Sobieski) has fled her small-town existence and is travelling to the big city. She looks up the only person she knows, Celene (Tricia Helfer), her former babysitter, who now, as it turns out, makes her living as a full-time dominatrix. Strapped for cash, Alberta naively decides to borrow Celene's identity to rake in the three-hundred dollar an hour pay day.
Her first client, Paul (Jacob Tierney) isn't anything like she expected. He's normal. So normal that Alberta agrees to move from their food court rendezvous back to his home, in order to continue their sexually-charged role-play.
Their soiree is interrupted by a trio of criminals, who believe that Paul has a great deal of their money. When Paul refuses to confess, the men beat him savagely. Alberta flees during the mellay, but Rene (Lothaire Bluteau), firmly convinced that Alberta knows the whereabouts of the remaining money, tracks her to Celene's house. Life suddenly spins out of control as Alberta struggles to step back over the line she's crossed.
Directed by Robert Cuffley and featuring a stellar cast, "Walk All Over Me" is a coming-of-age crime thriller, laced with dark humor, about a guileless woman beginning to find her confidence and the ability to negotiate power.