About This Video
---
A clip/trailer of My Sassy Girl
Tags
:
My Sassy Girl
Type
: Movie Trailer
Views
: 2535
This Movie Info
---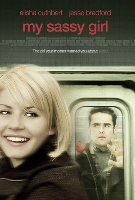 Charlie (Jesse Bradford), a shy and idealistic college student has never been in love. When he rescues the beautiful and elusive Jordan (Elisha Cuthbert) from falling to her death, his life is changed forever. Jordan engages Charlie in an unusual and eccentric courtship. How many tests will Charlie endure to win the heart of this complicated young woman?
Comments
---

Loved the film! Bradford was outstanding and Elisha was as feminine as any woman can be (especially versus the Korean version's lead) The reason for not giving a 5 was the weak reasoning of Jordan when she met the old man near the tree at the film's end. Yes, I have seen the Korean version and stopped due to the female leads maliciousness (trying to really harm the male lead) - largely removed in American version. The hitting of the head is common in Asia (I have lived in Japan five years) and I do not enjoy it. Can Elisha look more beautiful? (Regardless of the 20 extra pounds).
posted by

Aviano_Saint

on Jun 24, 2009
may i know the song title of the background music of this movies??
posted by

quetchup_27

on Aug 12, 2008