About This Video
---

This Movie Info
---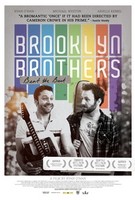 When you're in a rut, sometimes it takes something - or someone - unexpected to get you out. Perpetual underachiever Alex (Ryan O'Nan) finds himself on a spontaneous road trip after a determined stranger befriends him.Stacked with charming performances, The Brooklyn Brothers Beat the Best explores a quarter-life crisis caused by being professionally and personally unfulfilled.
Recently dumped by his girlfriend and his band, Alex toils away at a comically depressing real-estate office, picking up solo gigs wherever he can. After an altercation with his colleague (Wilmer Valderrama), he also finds himself jobless and without purpose.
After hearing one of Alex's sets, an eccentric spectator named Jim (Michael Weston) comes up with a plan for the two of them to tour the country as a musical duo. Realizing the state of his existential quandary, Alex reluctantly joins Jim on the road. Despite gracelessly fumbling their way between bizarre shows and touring pitfalls, Alex and Jim manage to play off one another and create a strangely alluring sound.
When Cassidy (Arielle Kebbel), an inexperienced tour manager, abruptly leaves them in a tight spot, Alex abandons the tour and shows up at the house of his older brother (Andrew McCarthy), looking for a place to stay. What follows is a crash course in self-actualization, as Alex comes to terms with who he is in relation to what others expect of him.