About This Video
---

Youth Without Youth (Alexandra Maria Lara Interview)
Tags
:
Youth Without Youth
Type
: Interview Video
Views
: 1181
This Movie Info
---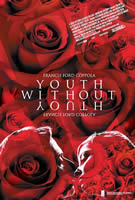 Youth Without Youth
Release Date :
December 14, 2007 NY, LA
Studio :
Sony Pictures Classics
Director :
Francis Ford Coppola
Starring :
Tim Roth
, Alexandra Maria Lara, Bruno Ganz, Andre Hennicke
A love story wrapped in a mystery. "Youth Without Youth" stars Tim Roth as Dominic Matei, a professor whose life changes after a cataclysmic incident during the dark years prior to World War II. Becoming a fugitive, he is pursued through far-flung locations including Romania, Switzerland, Malta and India.