About This Video
---

This Movie Info
---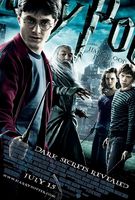 Voldemort is tightening his grip on both the Muggle and wizarding worlds and Hogwarts is no longer the safe haven it once was. Harry suspects that dangers may even lie within the castle, but Dumbledore is more intent upon preparing him for the final battle that he knows is fast approaching. Together they work to find the key to unlock Voldemort's defenses and, to this end, Dumbledore recruits his old friend and colleague, the well-connected and unsuspecting bon vivant Professor Horace Slughorn, whom he believes holds crucial information. Meanwhile, the students are under attack from a very different adversary as teenage hormones rage across the ramparts. Harry finds himself more and more drawn to Ginny, but so is Dean Thomas. And Lavender Brown has decided that Ron is the one for her, only she hadn't counted on Romilda Vane's chocolates! And then there's Hermione, simpering with jealously but determined not to show her feelings. As romance blossoms, one student remains aloof. He is determined to make his mark, albeit a dark one. Love is in the air, but tragedy lies ahead and Hogwarts may never be the same again.
Comments
---

Ek is baie opgewonde. Dit is jammer ons moet so lank wag in Suid Afrika, maar gaan die moeite werd wees!
posted by

Trailer

on Oct 21, 2008

The years can't pass quickly enough for the next movie to come out. What a superb and masterful way to imagine life through the Movies and the Books. This is the only way that we can become a part of that world that exsists in the hearts and minds of the old and young alike, to beome a part of such a magical life. Like Harry said,"I love magic!" Every charater is so important that they do exsist and have become a part of our everyday world. Thank you for the opportunity to live in this world through the movies.
posted by

Forever A Harry Pott

on Sep 17, 2008

I have read all of the books and I finished the Half-Blood Prince last year, so I'v been waiting patiently for it to come out. I think it looks amazing! I really can't wait to see it. It's a shame the release date's been moved down, but I know it'll be worth the wait. Ron rocks! I can't wait to see him and Lavender Brown. That should be hilarious.
posted by

Harry Potter Fan x

on Sep 13, 2008

I can tell that this movie is going to be absolutley amazing. I personally always liked the Quidditch game playing whnever it came up in the movies. But now it seems more important as Ron is joining the team. It makes it seem like he's living up a bit to his best friend Harry. But he is also living his own life now that he has romance going on with the Ron Hermoine Lavender Love Triangle. I love the colors of the Quidditch outfit toghether and they complement the two main Quidditch characters in the movie now which is Harry and Ron. I cannot wait thill this movie comes out because it is going to be so very great and absolutley amazing when it comes out in the movies November 21.
posted by

Harry Potter Fan!

on Jul 03, 2008