About This Video
---
A clip/trailer of Kung Fu Panda
Tags
:
Kung Fu Panda
Type
: Movie Trailer
Views
: 12894
This Movie Info
---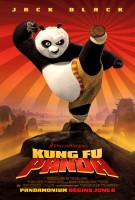 "Kung Fu Panda" features Jack Black as Po the Panda, a lowly waiter in a noodle restaurant, who is a kung fu fanatic but whose shape doesn't exactly lend itself to kung fu fighting. In fact, Po's defining characteristic appears to be that he is the laziest of all the animals in ancient China. That's a problem because powerful enemies are at the gates, and all hopes have been pinned on a prophesy naming Po as the "Chosen One" to save the day. A group of martial arts masters are going to need a black belt in patience if they are going to turn this slacker panda into a kung fu fighter before it's too late.
Comments
---

agood movie i like it very interested
posted by

kung-fu panda

on Nov 16, 2010

aqdjwuahd aysgdy wagsdwyia w :P
posted by

efes

on May 06, 2010
I cannot WAIT for the sequel I still love that movie! and to all you fans out there..HANS ZIMMERS HAS A MYSPACE ACCOUNT AND FACE BOOK.
posted by

Kailyn

on May 12, 2009

wtf.
posted by

money makin mayweath

on Jul 17, 2008
eu sou um dos participante em kung fu panda
posted by

alexandre

on Jul 06, 2008
thankssssssssssssssssssssssssssssssssssssssssssssssssssssssssssssssssssssssssssssssssssssssssssssssssssssssssssssssssssssssssssssssssssssssssssssssssssssssssssssssssssssssssssssssssssssssssssssssssssssssssssssssssssssssssssssssssssssssssssssssssssssssssssssssssss
posted by

wwe

on Jun 16, 2008