About This Video
---
A clip/trailer of Saw IV
Tags
:
Saw IV
Type
: Movie Trailer
Views
: 3636
This Movie Info
---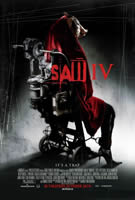 Saw IV
Release Date :
October 26, 2007
Studio :
Lions Gate Films
Director :
Darren Lynn Bousman
Starring :
Tobin Bell
, Scott Patterson,
Betsy Russell
, Costas Mandylor
Jigsaw and his apprentice Amanda are dead.
Now, upon the news of Detective Kerry's murder, two seasoned FBI profilers, Agent Strahm and Agent Perez, arrive in the terrified community to assist the veteran Detective Hoffman in sifting through Jigsaw's latest grizzly remains and piecing together the puzzle. However, when SWAT Commander Rigg is abducted and thrust into a game, the last officer untouched by Jigsaw has but ninety minutes to overcome a series of demented traps and save an old friend or face the deadly consequences.
Rigg's citywide pursuit leaves a wake of dead bodies, and Detective Hoffman and the FBI uncover long hidden clues that lead them back to Jigsaw's ex-wife Jill (Betsy Russell). The genesis of Jigsaw's evil is unveiled, exposing the puppet master's true intentions and the sinister plan for his past, present and future victims.