About This Video
---

A clip/trailer of Yellow
Tags
:
Yellow
Type
: Movie Trailer
Views
: 2203
This Movie Info
---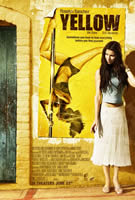 Yellow
Release Date :
June 22, 2007 LA
Studio :
Sony Pictures Entertainment
Director :
Alfredo De Villa
Starring :
Roselyn Sanchez
, Bill Duke, D.B. Sweeney, Sully Diaz
Amaryllis Campos is a young dancer from San Juan whose close relationship with her father Franco, himself once a great ballet star in New York City, drives her from her native Puerto Rico to Manhattan in order to fulfill her dreams. Living with a deceiving alcoholic wife, Carmen, and despairing of ever achieving greatness again, Franco takes his life. In order to honor her father's memory, Amaryllis decides to resume her dancing and pursue fame and success in New York. She settles into an abandoned apartment and, with few job prospects available, takes a job dancing at a strip club. Her new stage name, Yellow. While in New York, she befriends an old man named Miles, a washed out poetry professor living in her building, and Christian, a young doctor, who falls for her and tries to help her out of her situation.