About This Video
---
A clip/trailer of TMNT
Tags
:
TMNT
Type
: Movie Trailer
Views
: 1424
This Movie Info
---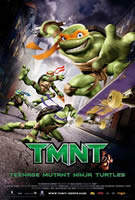 TMNT
Release Date :
March 23, 2007
Studio :
Warner Bros. Pictures
Director :
Kevin Munroe
Starring :
James Arnold Taylor, Mikey Kelley, Mitchell Whitfield,
Patrick Stewart
After the defeat of their old arch nemesis, The Shredder, the Turtles have grown apart as a family. Struggling to keep them together, their rat sensei, Master Splinter, becomes worried when strange things begin to brew in New York City. Tech-industrialist Max Winters is amassing an army of ancient monsters to apparently take over the world. And only one super-ninja fighting team can stop them - those heroes in a half shell - Leonardo, Michelangelo, Donatello and Raphael! With the help of old allies April O'Neil and Casey Jones, the Turtles are in for the fight of their lives as they once again must face the mysterious Foot Clan, who have put their own ninja skills behind Winters' endeavors. Making this new incarnation of the Teenage Mutant Ninja Turtles truly cutting-edge, the film will be created entirely with state-of-the-art CG animation, giving them a completely new look for the 21st century.
Comments
---

dwayne bonello i love this animated movie based on the cartoon and i will give 5stars!
posted by

dwayne bonello

on Oct 11, 2012