About This Video
---

A clip/trailer of The Chosen One
Tags
:
The Chosen One
Type
: Movie Trailer
Views
: 3968
This Movie Info
---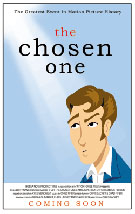 ...he's lost his job, totaled his car, and been attacked by a bear. Just when it seems like life can't get any worse, the leader of an eccentric church tells Lou (Chad Fifer) that he's The Chosen One - the man from prophecy who must travel to Kansas, talk to God and deliver the world into a new age.
Together with his cantankerous old roommate Zeb (Chris Sarandon), his scientist co-worker Donna (Danielle Fishel), and a certain Prince of Hell known as Lucifer (Tim Curry), Lou must overcome ninjas, thugs, femme fatales, and the baddest group of priests this side of Purgatory in order to complete his quest and achieve the ultimate enlightenment.
But enlightenment comes with a price*, and only Lou can decide if it's really all worth it.