About This Video
---

A clip/trailer of Bratz: The Movie
Tags
:
Bratz: The Movie
Type
: Movie Trailer
Views
: 4754
This Movie Info
---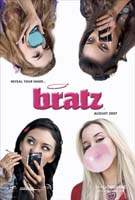 Bratz: The Movie
Release Date :
August 03, 2007
Studio :
Lions Gate Films
Director :
Sean McNamara
Starring :
Nathalia Ramos,
Janel Parrish
, Logan Browning, Skyler Shaye
The highly popular dolls Bratz finally come alive in "Bratz," the first live action feature film based on the chic fashion dolls. As the Bratz navigate their way through this story, we will see how the four young women represent honestly, camaraderie and most importantly friendship.
As long as they can remember, Yasmin (Nathalia Ramos), Jade (Janel Parrish), Sasha (Logan Browning) and Cloe (Skyler Shaye) have been "BFF" - Best Friends Forever. Inseparable since they first met, the young girls have always supported each other's individual personalities, talents and fabulous fashion styles. But now as the foursome enter Carry Nation High, Yasmin, Jade, Sasha and Cloe face a brand new world: a blackboard jungle, where for the first time they discover life as a teenager means dealing with a system of social cliques, all strictly enforced by senior Meredith Baxter Dimly. Finding themselves being pulled further and further apart, the girls band together and rise up as "the Bratz" to fight peer pressure, in turn learning how true empowerment means standing up for your friends, being true to oneself and living out one's dreams & aspirations.
Comments
---

dwayne bonello i hate this movie and i will not see it and i will give 1stars!
posted by

dwayne bonello

on Nov 08, 2012

I love this movie i just dont know how to download it
posted by

Iman

on Jun 17, 2010

I like bratz they make their magzine.
posted by

Todd

on May 26, 2009