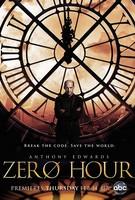 February 12, 2013 04:02:00
Just a few days before debuting "
Zero Hour
", ABC unleashes a new clip of the rookie series. The snippet teases a thrilling conspiracy story as
Anthony Edwards
' Hank Galliston tries to depicher a map, which apparently contains info about a secret society and might change the history.
Hank is a confessed paranormal junkie whose motto is logic is the compass. But when his beautiful wife, Laila (
Jacinda Barrett
), is abducted from her antique clock shop, Hank gets pulled into one of the most compelling mysteries in human history, stretching around the world and back centuries.
...