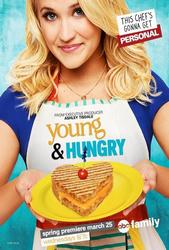 TV Info
---
Category
TV Series
Genre
Comedy
Starring :
Emily Osment
, Jonathan Sadowski, Rex Lee, Aimee Carrero, Kym Whitley

In Young & Hungry, two worlds collide when Josh (Sadowski), a wealthy young tech entrepreneur, meets Gabi (Osment), a feisty young food blogger, looking to be his personal chef. Gabi is desperate for the job and must prove herself, mostly to Josh's aide (Lee), who prefers a famous chef for the job. When Josh enlists Gabi to prepare a romantic meal for him and his girlfriend, the dinner goes awry and Gabi finds herself in a very awkward position. With the help of her best friend Sofia (Carrero) and Josh's housekeeper (Whitley), Gabi turns a difficult situation into an opportunity for employment and maybe even love.
The second season picks up with Gabi (Emily Osment) surprised by the return of ex-boyfriend Cooper (guest star Jesse McCartney), just as her boss, Josh (Jonathan Sadowski), has called off his wedding due to his feelings for her.