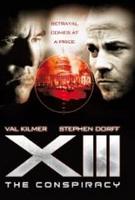 TV Info
---
Category
TV Series
Genre
Action, Thriller
Director :
Duane Clark
Starring :
Stephen Dorff
,
Val Kilmer
, Stephen McHattie,
Jessalyn Gilsig
, Ted Atherton, John Bourgeois, Greg Bryk, Lucinda Davis, Caterina Murino

February 04, 2009 01:02:13
"
XIII
", a mini series based on the comic book series of the same title that had made its rounds in France and Canada, will be aired in U.S. this February on NBC. A two-episode action thriller, "XIII" stars
Stephen Dorff
and
Val Kilmer
as the titular character and La Mangouste respectively.
The first female U.S. President is shot dead by a sniper during her Veteran's Day speech. Three months later, a wounded man is found tattered in a forest with no memory of his identity. The only clue is a tattoo on his neck, 'XIII.' Could his lightning-fast reflexes and killer instincts betray him as the presidential assassin that the U.S. is desperately searching for?
...