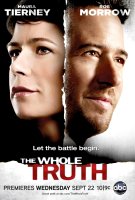 June 12, 2010 09:06:02
Maura Tierney
is officially on board ABC's new legal drama "
The Whole Truth
" which previously had
Joely Richardson
on the lead. Tierney who is in remission after successfully battling breast cancer since late last year, will take the role of Kathryn Peale, a deputy bureau chief in the Manhattan District Attorney's office.
Richardson had taken the role and even shot the scenes previously but she backed out of the project to spend more time with her family. The 45-year-old buried her aunt Lynn Redgrave in May and her uncle Corin Redgrave in April. Last year she lost her sibling Natasha Richardson in a skiing accident. Joely Richardson has an 18-year-old daughter named Daisy.
...