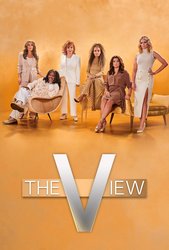 THE VIEW, recipient of the 2003 Daytime Emmy Award for "Outstanding Talk Show," is ABC Daytime's morning chatfest, featuring a team of dynamic women of different ages, experiences and backgrounds discussing the most exciting events of the day. The program has received critical acclaim since premiering August 11, 1997. It's broadcast live weekdays from NYC (11:00 a.m.-12:00 noon, ET; CLOSED-CAPTIONED; broadcast in stereo; TV-14).
The View features ABC News correspondent Barbara Walters -- who appears on average three days a week -- moderator Whoopi Goldberg, comedian Joy Behar, actress/comedian Sherri Shepherd and designer and former Survivor: The Australian Outback participant Elisabeth Hasselbeck. The View consists of hot topics in the news, the best experts in their field, celebrity interviews and general entertainment. The program celebrated its 2000th show on February 2, 2006, and is now in its 11th season on the ABC Television Network.
Barbara Walters' ground-breaking exclusive interviews with world figures and her enterprising reporting have made her one of the most highly acclaimed journalists on television. She has received worldwide recognition for her work and has been the recipient of numerous prestigious awards. Her interviews and reports appear regularly on the ABC weekly newsmagazine 20/20 and in The Barbara Walters Specials. Ms. Walters joined ABC News in 1976 as the first woman to co-host the network news.
In 2002 Whoopi Goldberg became one of a very elite group of artists who have won the Grammy (Whoopi Goldberg, 1985), the Academy Award (Ghost, 1991), the Golden Globe (The Color Purple, 1985 and Ghost, 1991), the Emmy (as host of AMC's Beyond Tara: The Extraordinary Life of Hattie McDaniel, 2002) and a Tony (producer of Thoroughly Modern Millie, 2002). She is equally well known for her humanitarian efforts on behalf of children, the homeless, human rights, education, substance abuse and the battle against AIDS, as well as many other causes and charities. Among her many charitable activities, Ms. Goldberg is a Goodwill Ambassador to the United Nations.
Joy Behar, a frequent comedy headliner, is among today's leading comic talents. On television she has starred in her own HBO special and was a regular on the series "Baby Boom." Other appearances include the voice of a hilariously neurotic patient on "Dr. Katz," which won the CableACE Award. She also served as correspondent for Comedy Central, covering the Democratic National Convention, and for three years had a popular call-in radio show on WABC.
Sherri Shepherd, an accomplished stand-up comic, has been featured in the motion pictures Who's Your Caddy, Beauty Shop, Cellular and Guess Who. For four seasons she starred on ABC's Less than Perfect. Ms. Shepherd is also the voice of twin toucans Cheryl and Meryl in the Disney Channel's comedy series, Brandy & Mr. Whiskers, and will next be seen reprising her role as Angie Jordan on 30 Rock. Ms. Shepherd has performed at The Comedy Store, The Improv and the Laugh Factory in Hollywood.
Elisabeth Hasselbeck is best known to audiences as a participant on the wildly popular second edition of the Survivor reality show, Survivor: The Australian Outback. In August, 2004, Mrs. Hasselbeck spoke at the Republican National Convention, where she delivered a heartfelt speech that emphasized her continued effort in support of Breast Cancer prevention and research. Ms. Hasselbeck and her husband, NFL quarterback Tim Hasselbeck of the New York Giants have one daughter, Grace. The couple are expecting their second child in November 2007.
The View is the recipient of 22 Daytime Emmy Awards, numerous Daytime Emmy Award nominations, including 10 consecutive nominations for Outstanding Talk Show and Outstanding Talk Show Host, the Gracie Award from the Foundation of American Women in Radio and Television, two Prism Commendations presented by the Entertainment Industries Council & National Institute on Drug Abuse, the GLAAD Media Award for Outstanding TV Talk Show, the Los Angeles Daily News Reader's Choice Award for Best Morning Talk Show, the Good Housekeeping Great Works Award, and was also voted Favorite Talk Show by Viewers Voice, Inc., a non-profit organization that supports television programming.