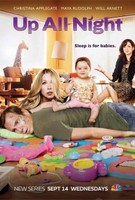 February 09, 2013 09:02:02
"
Up All Night
" is losing one of its leads.
Christina Applegate
has just shocked fans with her decision to leave the NBC comedy series as the show prepares to switch visual formats in the second part of its second season.
"It's been a great experience working on 'Up All Night', but the show has taken a different creative direction and I decided it was best for me to move on to other endeavors," Applegate says in a statement.
...
October 05, 2011 12:10:14
NBC gave two of its new freshmen a vote of confidence and one a grave. "
Up All Night
" and "
Whitney
" have been picked up for a full-season but "
The Playboy Club
" is meeting a dead end because the network is making comedy "an important goal" for them this season.
NBC chairman Bob Greenblatt said in a statement, "We're thrilled with the creative direction of both shows as well as the potential for them to continue to build loyal audiences over the coming months. We're proud of all of the producers, writers, actors, and directors who have worked so hard to bring these shows to life."
...