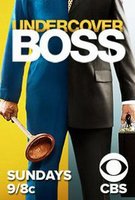 TV Info
---
Category
Reality TV

Genre
Reality

Starring :
Larry O'Donnell, Joseph M. DePinto, Coby G. Brooks, Dave Rife, William C. Carstanjen


December 29, 2014 04:12:18
The end of "
Undercover Boss
" usually shows the boss' humanity and wisdom by giving appreciation to the hard-working employees, but the star of the latest episode may have just given an example of a bad leader. The CBS reality series has landed in hot water after showing Texas chain Bikinis Sports Bar & Grill CEO Doug Guller who exploits his female employees' sexuality for the popularity of his "breastaurant."
In the episode which aired Sunday, December 28, Guller offered a 23-year-old waitress a breast augmentation in addition to promoting her. The girl had earlier revealed her desire to have breast augmentation surgery. The said employee admitted that she had been fired four to five times before for showing up to work late as she didn't like her bosses.
...