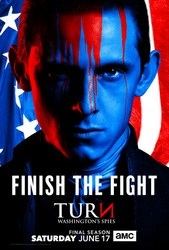 TV Info
---
Category
TV Series
Genre
Drama
Starring :
Jamie Bell
, Seth Numrich, Heather Lind, Daniel Henshall, Kevin McNally, Burn Gorman, Samuel Roukin, JJ Feild, Meegan Warner, Angus MacFadyen, Ksenia Solo

December 03, 2013 03:12:51
Jamie Bell
is an American spy in a new AMC series, "
Turn
". First footage from the show has now made its way out online via the first trailer for the period drama. In the sneak-peek video, the British actor plays an American farmer who is recruited for a secret mission during the British occupation of New York City.
Based on Alexander Rose's book "Washington's Spies", the show is set in the summer of 1778. Bell's Abe Woodhull is a Long Island farmer living behind enemy lines who forms an unlikely group of spies, called the The Culper Ring, with his childhood friends. The group eventually turns the tide during the American Revolutionary War.
...