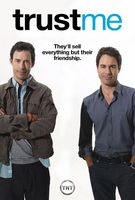 January 28, 2009 02:01:46
TNT's new drama series "
Trust Me
" is moving on to the second episode and a clip has been released as a sneak peek. It shows Sarah (
Monica Potter
) demanding the office that she was promised while in the other hand Mason is unwilling to give up his office.
Mason is under pressure to get his team to come up with a new tagline for Arc Mobile after the first line was rejected by the client. But the replacement line Conner feeds Mason, a line that the client loves, is fraught with problems that could cost Mason's new position and damage his trust for Conner. Sarah is determined to get the office she was promised, but she's not too keen on the partner Mason wants to foist on her.
...