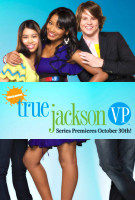 TV Info
---
Category
TV Series
Genre
Comedy
Starring :
Keke Palmer
, Ashley Argota, Matt Shively, Danielle Bisutti

What would you do if you landed your dream job as a big shot at a major company and you were only 15?
How would you hire?
True Jackson gets the chance of a lifetime when she's hired by her idol and made VP of his fashion empire!
Will True learn to navigate this scary new world?
Will her dreams come true?