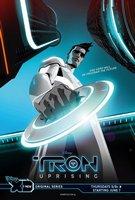 April 12, 2012 12:04:44
In anticipation of the "
Tron: Uprising
" premiere, a new teaser for the animated series has been shared online. The snippet gives a quick glimpse at Beck, the next Tron, in a battle scene which will still see the light cycle as the main weapon.
Beck is a young program who becomes the skillful leader of a revolution inside the computer world of The Grid. His mission is to free his home and friends from the reign of the villainous Clu 2 and his henchman General Tesler. Beck will be trained by Tron - the greatest warrior the Grid has ever come to know.
...