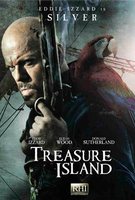 TV Info
---
Category
TV Series
Genre
Adventure, Fantasy, Action
Director :
Steve Barron
Starring :
Eddie Izzard
,
Elijah Wood
,
Donald Sutherland
, Toby Regbo, Phillip Glenister,
Rupert Penry-Jones
, Shirley Henderson, Nina Sosanya, David Harewood, Keith Allen

Follows the story of Jim Hawkins who is unexpectedly drawn into the world of pirates when he discovers Flint's treasure map. However, Long John Silver (Emmy Award winner Eddie Izzard) will stop at nothing to get hold of the gold for himself. As they set sail for Treasure Island, Jim embarks on an action adventure that will change his life forever.
With Silver preparing to lead a mutiny, who will be the first to find Flint's buried booty? Who will keep control of the ship? And who will leave the island alive? Silver and Jim explore the true meaning of loyalty and betrayal as they battle it out for the treasure... and ultimately their own survival.