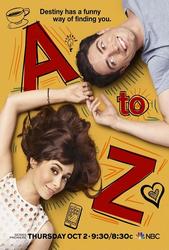 TV Info
---
Category
TV Series
Genre
Drama
Starring :
Ben Feldman,
Cristin Milioti
,
Katey Sagal
, Henry Zebrowski, Lenora Crichlow, Christina Kirk, Hong Chau

November 01, 2014 07:11:11
NBC is saying goodbye to its two freshman series. Romantic comedy "
A to Z
" and legal comedy "
Bad Judge
" had been canceled, the network announced on Friday, October 31.
Both shows will not be renewed after completing its 13-episode commitment. "A to Z" has shot 11 episodes while "Bad Judge" has shot 10 episodes. Five episodes each have aired. Both shows will remain in their Thursday night timeslots before fading away. Starting February, "
The Blacklist
" will fill in the Thursday 9/8c hour.
...