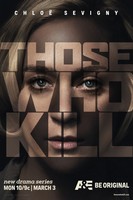 TV Info
---
Category
TV Series
Genre
Drama
Starring :
Chloe Sevigny
,
James D'Arcy
, James Morrison , Kerry O'Malley, Omid Abtahi, Bahar Soomekh

January 22, 2014 11:01:37
Following the success of "
Bates Motel
", A&E is bringing forward another thriller series, "
Those Who Kill
", which is based on the Danish crime series format inspired by the bestselling work of author Elsebeth Egholm. The first trailer for the freshman is now made available for viewing pleasure, hinting at how intense the hunt for the murderer is.
The new drama follows
Chloe Sevigny
's Catherine Jensen, a recently promoted homicide detective who tracks down serial killers and relentlessly seeks the truth behind the disappearance of her brother. She enlists the help of Thomas Schaeffer (
James D'Arcy
), a forensic psychologist who has a tumultuous relationship with the police department, to provide insight into her cases and her personal investigation into her stepfather.
...