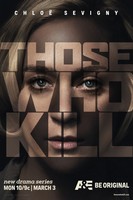 TV Info
---
Category
TV Series

Genre
Drama

Seasons
1

Production Co.
Fox 21, Imagine Television

Distributor
A&E


Cast and Crew
---
Main Cast
Chloe Sevigny as Catherine Jensen
James D'Arcy
Kerry O'Malley
Omid Abtahi
Bahar Soomekh
The Story
---
The series centers on Catherine Jensen (Chloe Sevigny), a freshly minted and incredibly smart police detective who tracks down serial killers. Jensen is also attempting to come to terms with her past by continuing to investigate her stepfather, who she suspects may be a serial killer, and her brother who went Missing as a sixteen-year-old. Jensen enlists the help of Thomas Schaffer (James D'Arcy), a forensic psychiatrist, to help her get into the minds of serial killers, all the while luring Schaffer into her own personal investigation. Both characters possess a deep psychological understanding that connects them to the killers' victims and to the killers themselves.
The Stills
---