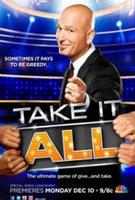 TV Info
---
Category
Game Show
Genre
Reality, Game-Show
Seasons
1
Production Co.
Universal Television and Alevy Prod.
Distributor
NBC
Official Site
click here

The Story
---
In the show, a contestant selects and opens a prize worth thousands of dollars: dream prizes such as luxury cars, exotic trips, jewelry and VIP experiences. Then, the next player is faced with a dilemma: do they steal a prize that has already been revealed, or do they take a chance with another unopened prize, hoping what's inside is worth more?
But that's just the beginning. When there are only two contestants left, the players have a life-changing choice to make: keep the prizes they have - or try to take all the prizes. If both players choose to "keep mine," they will each keep the prizes they have won in the prior rounds. If one player chooses "keep mine" and the other chooses to "take it all," the player that chose "take it all" will go home with all the prizes - theirs and their opponents. But if both choose "take it all," they both go home with nothing. The stakes are insanely high as each contestant grapples with the choice of a lifetime.
The Stills
---