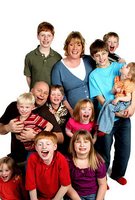 TV Info
---
Category
Reality TV
Genre
Reality, Family
Starring :
Betty Hayes, Eric Hayes, Kevin, Kyle, Kieran, Meghan, Tara, Rachel, Ryan, Connor, EJ,
Rebecca

October 31, 2009 09:10:58
Just a day after it was reported that "
Table for 12
" will substitute for "
Jon & Kate Plus 8
", TLC releases the promo that announces the shift. "You've seen what it's like chasing after eight. Now, try keeping up with a family of 12," so the promo says.
Along with a look at the Hayes family, the promo also reveals the premiere date of "Table for 12". It says that it will follow the season finale of "Jon & Kate Plus 8" but will only start on March 23 at 10/9c, meaning TLC could stretch "Plus 8" until next year.
...