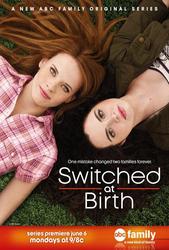 July 31, 2013 10:07:41
On the heels of "
Bunheads
" cancellation, ABC Family delivers the good news to "
Switched at Birth
" cast and fans. The Millennial-skewing network has ordered a third season of the Peabody Award winning drama.
The network also gives a vote of confidence to newbies "
Twisted
" and "
The Fosters
", giving back-order pick-ups to the summer dramas. Both shows, along with "Switched at Birth", are set to return in January 2014 alongside "
Pretty Little Liars
" after their summer finales.
...
August 01, 2011 11:08:55
For having a strong start and continuing the accolade, "
Switched at Birth
" is given additional 22 episodes order. ABC Family announced that the new drama series will have a total of 32 episodes in the first season with the first 10 episodes ending this summer on August 8.
"Viewers have fallen in love with this show, just as we did when we first saw it," said ABC Family president Michael Riley in a statement. "We set out this year to bring viewers more original content than ever before, all with the trademarks of our bright, authentic, quality storytelling. We're so thrilled to see this series become a break-out hit this summer and become a key component of our programming lineup into next year."
...