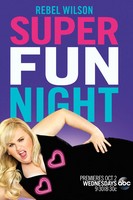 TV Info
---
Category
TV Series
Genre
Comedy
Starring :
Rebel Wilson
, Lauren Ash, Liza Lapira, Kevin Bishop, Kate Jenkinson

September 16, 2013 02:09:03
Rebel Wilson
knows how to have a good time and takes viewers to join her in a "
Super Fun Night
" music video. In the almost three minute clip, the rising star shows off her singing skill which she first brought to "
Pitch Perfect
" last year.
The recently-released video opens with Wilson singing alone in her bathroom, before her on-screen BFFs Liza Lapira and Lauren Ash join her. The three then move to another setting, a nightclub, dancing to the energetic tune along with other co-stars, Kevin Bishop and Kelen Coleman.
...