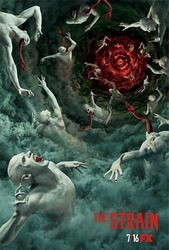 TV Info
---
Category
TV Series
Genre
Drama, Thriller
Starring :
Corey Stoll
, Mia Maestro,
Sean Astin
, David Bradley,
Kevin Durand
,
Natalie Brown
, Jonathan Hyde,
Samantha Mathis
, Richard Sammel, Robert Maillet, Jack Kesy, Ben Hyland, Miguel Gomez

The transformation has begun. It can no longer be denied - New York City is rapidly falling to an evil epidemic, and no one is coming to its rescue. Its citizens must fight or die.
Dr. Ephraim Goodweather and his unlikely allies tried to take down the embodiment of this evil - the Master - and failed. Now Eph and Dr. Nora Martinez concentrate on creating a biological weapon to wipe out the creatures, while Abraham Setrakian searches for an ancient book he hopes will reveal the strigoi's entire history... and possibly a way to kill them.
Meanwhile, the Master is out for revenge, sending new and even more terrifying breeds of bloodthirsty creatures after our team. They need to find a way to defeat him before the transformation has become widespread, irreparable...Before they become monsters themselves.