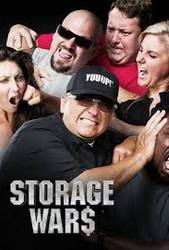 TV Info
---
Category
Reality TV

Genre
Reality-TV

Starring :
Dan Dotson, Laura Dotson, Darrell Sheets, Jarrod Schulz, Brandi Passante, Dave Hester, Barry Weiss


December 12, 2012 10:12:52
Former "
Storage Wars
" star Dave Hester is now at a legal war with A&E and Original Productions. Hester, who was one of the main buyers on the reality series, has filed a lawsuit in Los Angeles Superior Court against the cable channel and the show's producers for wrongful termination.
In a document obtained by TMZ, Hester claims he was fired in October after complaining to producers that the show's rigged. Giving evidences, he reveals that producers planted a BMW mini car under a pile of trash and a pile of old newspapers announcing the death of
Elvis Presley
.
...