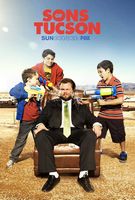 March 01, 2010 01:03:58
FOX has shared a 30-second promo of its new series "
Sons of Tucson
" that gives the background story of the whole comedy. Three young brothers find a dad-to-hire in a local sporting good store after meeting Ron Snuffkin who coincidentally needs money to pay his debts. Ron is in for a surprise when discovering how messy the boys' life is, literally.
The series premieres on March 14 at 8.30/7.30c. When the Gunderson boys Brandon, Gary and Robby hire Ron to pretend to be their father after their real father goes to prison, they find out that there's more to their "fake" dad than meets the eye. Ron has to enroll them in school, convince Robby's teacher to keep him in her class, sweet-talk the principal, locate mint-condition toy soldiers at his grandmother's house and avoid a thug who wants his money.
...