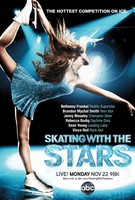 TV Info
---
Category
Reality TV
Genre
Reality
Starring :
Rebecca Budig,
Bethenny Frankel
, Jonny Moseley, Vince Neil, Brandon Mychal Smith,
Sean Young

An amazing cast of stars will compete each week on the spectacular ice rink in Skating with the Stars!
Six couples will take to the ice with their professional partners for the first time in front of a live audience starting Monday, November 22 at 9|8c, with couples performing high-paced ice dancing moves and dazzling figure skating routines. Couples will need to be perfectly in sync since the unforgiving ice will show no mercy for the slightest mistake. The couple with the lowest ranking following the judges' scores and votes from the public for their performance will be sent home the following week.