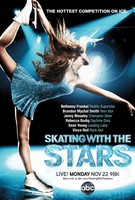 TV Info
---
Category
Reality TV
Genre
Reality
Starring :
Rebecca Budig,
Bethenny Frankel
, Jonny Moseley, Vince Neil, Brandon Mychal Smith,
Sean Young

December 22, 2010 11:12:20
Bethenny Frankel
failed to take the trophy of "
Skating with the Stars
" for it was snatched by "
All My Children
" star, Rebecca Budig. In the December 21 finale of the new reality competition show, Budig scored a perfect 10 in her performance while Frankel took in 51 out of 60.
"I owe all of this to [professional partner] Fred [Palascak], who is an unbelievable teacher. I've said it a hundred times, but honestly, I owe it all to him," Budig said after her win. "This is such a shock! I can't believe it."
...
December 14, 2010 10:12:44
Actor/rapper Brandon Mychal Smith has been forced to hang up his ice skates and quit U.S. reality show "
Skating with the Stars
" after falling ill with a mystery ailment. The "
Sonny with a Chance
" star initially pulled out of the TV competition last week after he was hospitalized with breathing difficulties.
It later emerged he had also been vomiting during rehearsals and a representative for the show attributed the sickness to food poisoning. But the 21 year old found himself back in hospital after the incident and has undergone tests to determine the cause of his illness. Sources close to Smith tell TMZ.com the actor has been left so weak by the ailment, he's barely able to stand.
...