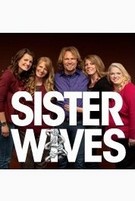 TV Info
---
Category
Reality TV
Genre
Drama, Reality
Starring :
Kody Brown, Meri, Janelle,
Christine

October 30, 2010 09:10:36
TLC, home of "
Kate Plus 8
" and "
Sarah Palin's Alaska
", is making "
Sister Wives
" its prime show. The network announced a 10-episode season 2 although Kody Brown and his large family are still in the middle of a criminal investigation for bigamy.
Kody, a practicing polygamist, has four wives and a total of 17 children. Their daily lives were captured by TLC's cameras as a reality show that eventually won viewers. The first season ended on October 17 with 2.7 million viewers hooked. The second season is set to debut in March, but it's not yet known whether they would talk about the investigation.
...
October 23, 2010 01:10:39
While a second season is still a question mark, TLC announced that fans of "
Sister Wives
" will be able to see the polygamist family in a follow-up special. THR said the network has ordered Peacock Productions to produce the special, involving also NBC's Natalie Morales as an interviewer.
Morales would be questioning Kody Brown and his large family "about how their lives have changed since the premiere of the show, the government investigation into the legality of their polygamous marriage and how they're dealing with the media attention."
...