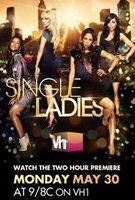 TV Info
---
Category
TV Series
Genre
Drama
Starring :
Stacey Dash
, LisaRaye McCoy, Charity Shea,
Denise Vasi
, Anthony Montgomery, DB Woodside,
LeToya Luckett
, Kassandra Clementi, Melissa De Sousa, Travis Winfrey

December 07, 2011 12:12:42
A day after she was announced to join VH1's "
Single Ladies
",
Denise Vasi
dished on her role. The actress/model, who previously played Randi Hubbard on now-canceled daytime soap "
All My Children
", hinted that her character named Raquel will bring more complications to the drama series in a different way.
"Raquel is going to come back and stir the pot in a different way and bring some exciting new energy," Vasi said of her businesswoman character, who is also a close friend of LisaRaye McCoy's Keisha. Asked if Raquel is kind of a villain, she stated, "No no she's not at all but the way she's discovering herself will be different than what we've seen before."
...
October 20, 2010 10:10:55
Queen Latifah
's upcoming "Single Ladies" film is heading to the small screen - the movie has been expanded into a weekly U.S. television series. Latifah took inspiration from
Beyonce Knowles
for the film, about a group of girlfriends who are unlucky in love, naming it after the singer's hit "Single Ladies (Put a Ring on It)".
And now the movie, starring
Stacey Dash
, LisaRaye McCoy and Charity Shea, is to become an eight-episode VH1 network series, which is set to launch in July 2011. Latifah, who was not initially featured in the project, is now scheduled to make a guest appearance in the expanded TV version, reports Variety.
...