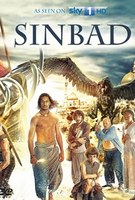 TV Info
---
Category
TV Series
Genre
Adventure, Drama
Starring :
Elliot Knight,
Naveen Andrews
, Dimitri Leonidas, Marama Corlett, Elliot Cowan, Estella Daniels, Orla Brady

One of fantasy's most legendary characters, Sinbad, comes to life in this exciting new series.
After Sinbad accidentally kills the son of powerful Lord Akbari, he is forced to flee -- under a curse -- from his home town of Basra. Now unable to be on dry land for more than a day (thanks to the curse), Sinbad must travel the world to find a cure and return home. On board his new home - the ship, The Providence - an intriguing band of travelers is thrown together, including taciturn Norwegian sailor Gunnar, the lithe and agile jewel-thief Rina, and haughty and aristocratic Nala. Completing the ship's complement is the odd-ball cook and the cerebral doctor Anwar.
Little does Sinbad know that as he sails the high seas, he's being hunted by Lord Akbari, determined to exact revenge for his son's death.