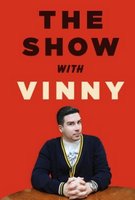 TV Info
---
Category
Talk Show

Genre
Talk-Show, Reality

Starring :
Vinny Guadagnino


January 10, 2013 03:01:43
MTV is promoting another "
Jersey Shore
" spin-off, "
The Show with Vinny
", by releasing its first trailer. It features Vinny Guadagnino describing his family as a "crazy family" and his crib as a "creepy house."
On the so-called hybrid talk/reality series, Vinny will welcome famous celebrities to his family's home in Staten Island. Appearing as a one of the first guests is
Lil Wayne
, which gets the whole family excited in the promo video. The rapper gets a nice treatment from Vinny's mother, who prepares meal for him before the hip-hop artist is about to leave with Vinny.
...
November 14, 2012 09:11:21
Vinny Guadagnino will be staying on MTV even after "
Jersey Shore
" takes its final bow in December. The reality TV star has got his own talk show on the network titled "
The Show with Vinny
". The so-called hybrid talk/reality series will put a twist on talk show format by welcoming the guests to Vinny's Staten Island home.
"Vinny's unique mix of humor, intelligence, curiosity and heart make him the perfect choice for this genre busting take on the interview format," Chris Linn, MTV executive vice president of programming and head of production, says in a statement.
...