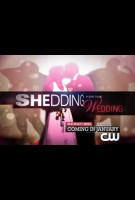 TV Info
---
Category
TV Series
Genre
Reality
Starring :
Sara Rue

November 18, 2010 02:11:36
The producer of "
The Biggest Loser
" takes weight loss program to a new level. Dave Broome teams up with "Pimp My Ride" producer Rick Hurvitz to create a reality show about overweight couple working hard to lose pounds before their wedding day approaches. The first sneak peek to the show has just been released.
10 couples are subject to a series of challenges to win a dream wedding as well as ideal weight. Some of the physical games are similar to "Biggest Loser" but some are wedding-related such as carrying a four-tiered wedding cake back and fourth, and doing ballroom dancing. The prizes are also about weddings like cake, rings and invitations.
...