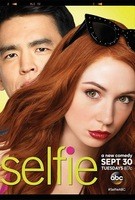 TV Info
---
Category
TV Series
Genre
Comedy
Starring :
Karen Gillan
,
John Cho
, Tim Peper, Allyn Rachel, Da'Vine Joy Randolph, David Harewood

November 08, 2014 07:11:48
"
Selfie
" did not survive ABC's ax. The network has canceled the freshman comedy series due to low ratings and will not order beyond its 13 episodes.
The half-hour comedy premiered on Tuesday, September 30 with a mediocre 5.3 million viewers and a 1.6 rating among adults 18 to 49. The series failed to pick up more viewers in the following episodes with the most recent one gaining mere 3.2 million viewers.
...
February 19, 2014 08:02:28
Karen Gillan
has landed the lead role of a new pilot for ABC. The 26-year-old "
Guardians of the Galaxy
" actress is to play Eliza Dooley on "
Selfie
", a sitcom written by "
Suburgatory
" scribe Emily Kapnek.
The series, a single-camera half-hour, follows Dooley as she tries to get back on track after a humiliating breakup and an embarrassing viral video. Described as a social network-obsessed narcissist, the 20-something woman is "more concerned with 'likes' than being liked."
...