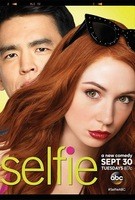 TV Info
---
Category
TV Series
Genre
Comedy
Starring :
Karen Gillan
,
John Cho
, Tim Peper, Allyn Rachel, Da'Vine Joy Randolph, David Harewood

February 19, 2014 08:02:28
Karen Gillan
has landed the lead role of a new pilot for ABC. The 26-year-old "
Guardians of the Galaxy
" actress is to play Eliza Dooley on "
Selfie
", a sitcom written by "
Suburgatory
" scribe Emily Kapnek.
The series, a single-camera half-hour, follows Dooley as she tries to get back on track after a humiliating breakup and an embarrassing viral video. Described as a social network-obsessed narcissist, the 20-something woman is "more concerned with 'likes' than being liked."
...